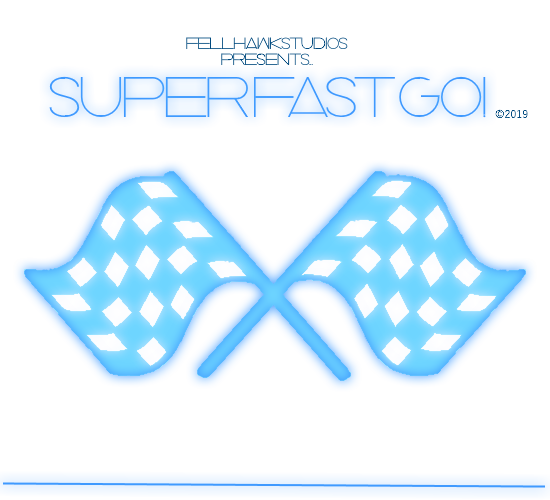 Super Fast GO!
A downloadable game for Windows
Welcome to the super circuit! Where the cars are fast, and the tires are way too bouncy!
We got one track, and it's the best in the world, baby! All you gotta do is complete 3 laps around the track before your friend (or enemy). Watch out for the walls, though, we accidentally bought some extra-bouncy tire walls and nobody wants to buy them from us.
We have everything you need! Including:
A race track!
Cars!
An arena?
See you on the track, racer!
Maybe we'll finally raise enough money to actually get a license to run this place...
Install instructions

Installation is as easy as "321"! (Or was it 123...)
This one should be a given, download the game! (And maybe consider donatin'?)
Use your favorite extractin' tool, most people use 7zip, WinRar, or whatever comes with their computer. The easiest way to extract the game is to right click on the archive in your Downloads (or wherever the file was downloaded to) and press somethin' along the lines of "Extract to..." or "Extract files to...".
Open the file that says "Super Fast GO!.exe".

My game is running extremely fast/slow!
This is a hardware-specific problem that has to do with my flawed code. :(
The easiest way to get support on this topic is to post on "Support" category in the discussion board.
My computer says that the file is not trustworthy when I open it, is it safe?
This is due to Window's fancy SmartScreen ma-jig, there should be a button that says "advanced options" or somethin' and that should allow you to press the button that says "run anyway". This is caused by the file not having a verified/trusted publisher and therefore getting flagged as "suspicious" to Windows.
My antivirus software detected the archive/file as a "PUP" or "Virus"
I don't exactly know the reason why antiviruses pick this up as suspicious software, but I think it has to do with being an unverified/untrusted publisher.
The easiest way to fix this is to find out how to exclude the file from scanning, or to ignore warnings for it.
Problem not fixed? Problem not listed? Make a thread in the "Support" category on the discussion board.